First sighting of great crested newts on Brandie Brook Nature Reserve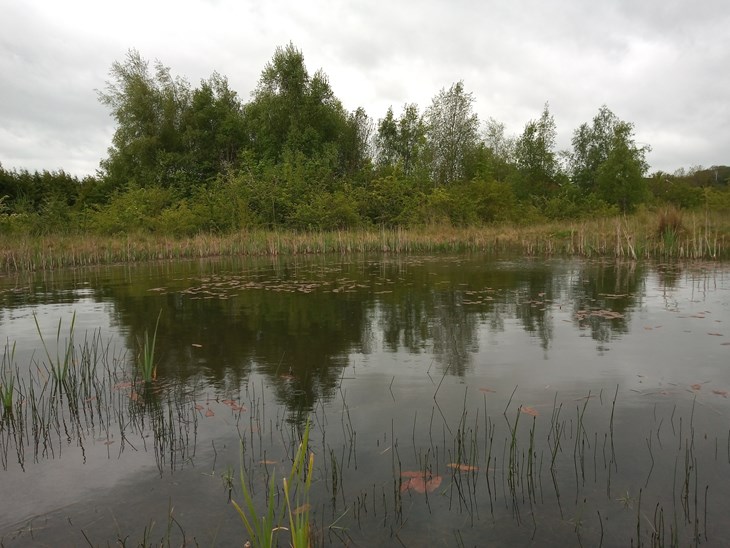 For the first time, great crested newts (GCN) have been recorded on Brandie Brook Nature Reserve in Johnstown.
The reserve is managed by conservation charity Wild Ground, which carries out annual surveys for GCN across its reserves. In 2015 the conservation charity created a pond at the site, and this is the first time since the pond was created that GCN have been spotted using it. During the latest survey both a male and a female GCN were recorded, indicating that the species may be beginning to use the pond for breeding.
funding from Natural Resources Wales helped to create the pond and it has been managed with support from them and funding through the landfill disposal tax, administered by WCVA. The pond has an area of 400m2 which is the optimal size for GCN, with good water quality and minimal shade. The pond also benefits from having very little disturbance from wildfowl such as ducks, and from having no fish which would eat the GCN if they were present.
North East Wales is a stronghold for great crested newts, which have been declining across Europe over the past century and they are protected by law now, officially classed as an endangered species.
The Brandie Brook reserve also benefits from being close to the Stryt Las site which has a population of GCN, enabling the animals to move between the ponds on the two sites. There is also good habitat for newts outside the pond, with a diverse structure including short vegetation, grassland, scrub and woodland, providing opportunities for newts to forage and shelter.
Brandie Brook is part of the' Stryt Las a'r Hafod Site of Special Scientific Interest' and the 'Johnstown Newt Sites Special Area of Conservation'. Wild Ground carries out GCN survey's during the breeding season which takes place in April and May. Torch surveys take place at night when the newts are active and carrying out their breeding displays.
Emma Ellis, Wild Ground's Johnstown Reserves Officer said "This is an exciting success story, as the pond has been created and managed to meet the diverse needs of the great crested newt. It really shows that our team's conservation efforts have paid off. We hope that the great crested newt population on Brandie Brook will now expand and thrive in the future, helping to conserve and protect this endangered species."