Refurbs Making Food Go Further project is part of our commitment to reducing waste and promoting sustainable living.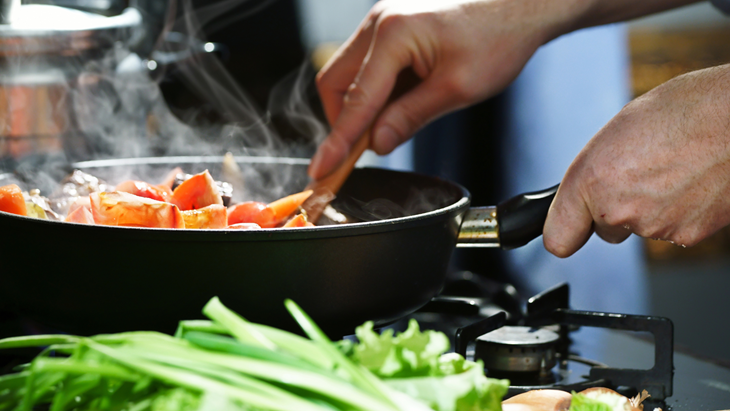 The project is running regular food cooking demonstrations at our sites in Flint and Buckley. The demonstration's aims are to show that tasty, hearty meals for everyone can be made from items at the back of the store cupboards, a tin of chopped tomatoes and those peppers at the bottom of the fridge can make a tasty soup. Hints and tips on what can be done with surplus food, foods you didn't know could be frozen, making preserves from surplus fruit or veg, cooking with leftovers and talking about the differences between best-before and use-by dates will be covered in the demonstrations.
Demonstration dates
Nov 15th @ Refurbs Flint, Aber Road, CH6 5EX. 12pm – 1pm.
Nov 15th @ Refurbs Buckley, 9 Brunswick Rd, Buckley, CH7 2ED. 3pm – 4.30pm.
Dec 13th @ Refurbs Flint, Aber Road, CH6 5EX. 12pm – 1pm.
Dec 13th @ Refurbs Buckley, 9 Brunswick Rd, Buckley, CH7 2ED. 3pm – 4.30pm.
More to come for 2024.
Katy Turner, Café and Conference Manager, who will be leading the demonstrations said "We believe that everyone can play a part in reducing food waste, and this project is a great way to empower people to do just that.
We hope that the cooking demonstrations will inspire people in the community to waste less food and use more sustainable options."
Alongside the demonstrations we are running a community food drive to collect unwanted store cupboard essentials that can be utilised in our Community Fridge rather than going to waste. We have collection points at Refurbs Flint and Refurbs Buckley. Maybe you are having a cupboard clear out prior to Christmas to make room then think of donating those items.
We are not only looking for donations from community members we will be happy to speak to businesses and food producers/sellers that have unwanted or excess food items which would otherwise go to waste (such as food reaching the end of its shelf life or surplus/imperfect fruit and vegetable) - we can even arrange collection.
Items that can be donated include
Canned Soups
Canned Fruits / Vegetables
Coffee / Tea
Pasta / Rice
Cooking Sauces
Condiments
Surplus vegetables and fruit
The overall project aims are to directly benefit the communities of Flintshire through the reduction in food waste and the provision of food for those who need it. If you are interested in getting involved with the project, we are looking for volunteers to assist.
Jo Prandle our Community Fridge Co-Ordinator is enjoying meeting the people in the community, getting them involved and sharing the reduce food waste message "I'm really enjoying spreading the reduce food waste message to our communities in Flintshire and looking forward to getting more volunteers on board.
Promoting the reducing food waste is an important message it not only allows us to show the importance of reducing waste for environmental benefits, but it enables us to help individuals in our communities that need it most especially in the run up to Christmas".
Volunteers will be involved in a variety of tasks including helping with local outreach to potential food donors, collecting food from donors, helping with promotion of the Community Fridge and the project's activities to the community, and helping to greet members of the community who come to use the fridge and familiarise them with how it works.
The project has been made possible thanks to funding from the Landfill Disposal Tax Scheme administered by WCVA.
To get involved with the project or to book a place on the cooking demonstrations you can email [email protected] or call 01978 757 524.