MS Ken Skates officially opens the revamped site at Minera Lead Mines.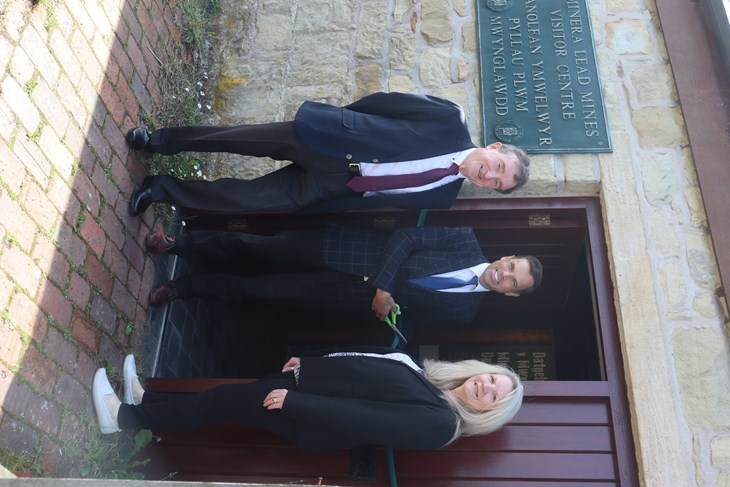 Today we welcomed one of the region's Members of the Senedd to the 'Visit Minera ' project to officially open the new Community Hub and revamped Visitor's Centre at the Minera Lead Mines heritage site, Minera, Wrexham.
Ken Skates, MS for Clwyd South, was welcomed by Groundwork North Wales to the Minera Lead Mines site where the Visit Minera project has recently seen substantial investment from the Welsh Government's Brilliant Basics Fund, Wrexham County Borough Council and the Heritage Lottery Fund.
He along with key members of the project's development were shown the extensive refurbishment of what was the toilet block and Ranger's Office. The area is now home to a modern, adaptable multi-purpose space, suitable for visitor seating, special events, talks/lectures, and young people's activities, and a community space outside of opening hours with fully accessible toilet facilities.
The Visitor's Centre at the top of the site has undergone a redesign and has refreshed, interactive interpretation installed along with artifacts from the site's originally excavation on display thanks to Wrexham Museums.
Ken Skates said: "The site here at Minera plays a vital role in the heritage of Wrexham. It's fantastic to see the work that has been undertaken here to allow local people and people from further afield to learn about the heritage of the site in this beautiful part of Wrexham.
Minera Lead Mines and similar sites play a key role in our Wrecsam2025 City of Culture bid as they demonstrate what a diverse and interesting area we live in".
Minera Lead Mines will be hosting a Family Day Out thanks to funding from Wrecsam2025 on Saturday, May 28th, 2022. The site will be open between 11 am and 3.30 pm with a variety of family-friendly activities, the display and the winner's announcement of the Minera Natural Heritage & Culture Primary School Art Competition. There will be guided tours of the site at 11.30 am, 1 pm and 2.30 pm (pre-booking required via [email protected]), and local heritage group displays. There is no entry fee, parking is free, and the site is dog friendly.
Groundwork North Wales works alongside local communities, public bodies, private companies, and other voluntary sector organisations to support local communities. You can keep up to date with all of Groundwork North Wales work in your local community by visiting www.groundworknorthwales.org.uk and following us on social media @GwkNorthWales